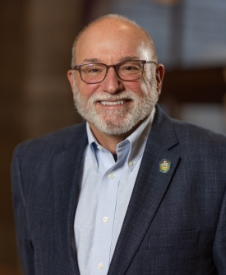 District 1 Council Representative
Thomas Baker
Phone: 412-350-6490
Standing Committees:
Member: Economic Development & Housing, Health & Human Services, Public Works, Parks, Government Reform
Chair: Marketing and Public Outreach
Member: Education
County Councilman Tom Baker was elected on November 5, 2013 and re-elected on November 7, 2017 to represent District 1 in Allegheny County. He previously served as a School Director in the North Hills School District. Councilman Baker has served on several committees including Marketing (Chair), Economic Development and Housing, Education, Health and Human Services, and Public Safety, and was also Caucus Chairman. He represents nearly 100,000 residents in Aleppo, Ben Avon, Ben Avon Heights, Coraopolis, Emsworth, Findlay, Glen Osborne, Glenfield, Haysville, Kilbuck, Moon, North Fayette, Ross Township, and West View on Allegheny County Council. He is active in District 1 and attends dozens of events per year, hosts regular annual town hall meetings, coordinates the District 1 Difference Maker Awards event, organizes the annual Ross/West View Trivia Night, and holds office hours at local libraries.
Councilman Baker is the Chief Community Affairs Officer (previously served as Vice President of Programs) for Big Brothers Big Sisters of Greater Pittsburgh and has volunteered as a Big Brother to his BBBS little brothers, Preston (since 2002), Eric (since 2010), E.J. (since 2015), Eddie (since 2018). In his professional role at BBBS Tom oversees volunteer recruitment, child recruitment, volunteer trainings, government affairs, partnerships, and has spoken and shared on behalf of the agency at over 100 events each of the last ten years. He coordinates the BIG Recruitment Board, Young Professional Outreach Board, Youth Outcomes Advisory Board, Washington County Advisory Board, the Big Ideas Big Connections series, Big Possibilities events, the annual Celebrate Coalitions Awards event, the Annual 3 on 3 BBBS Basketball Tournament, and previously served as State President for the PA BBBS State Association. BBBS of Greater Pittsburgh has been named the National Agency of the Year two of the previous six years out of more than 250 affiliate agencies and has grown to become the 23rd largest BBBS affiliate across the country.
Councilman Baker is the Founder and Chief Program Officer of Get Involved!, Inc., a 501c3 public charity non-profit organization that educates and empowers young leaders through the annual Pittsburgh Service Summit, Fast Track Community Leadership program, Power Hour series, and Student Empowership Conference. He is the President of Baker Leadership and author of three books: Get Involved! Making the Most of Your 20s and 30s (released 2008) Give Our Passion (released 2010), and Empowered in Pittsburgh (released 2012). Baker served as Facilitator for four spring semesters for the Leadership For Life program at Penn State Altoona and was the Spring 2017 Commencement Speaker at Penn State Altoona. He hosts two television programs: Get Involved! Pittsburgh on Pittsburgh Community Television and Get Involved! Moon Township on Moon Community Access Television (MCATV). Since February 2008, Councilman Baker has spoken with over 100,000 students, young professionals, and community leaders at more than 500 colleges, corporations, professionals associations, and civic groups across the country.
Councilman Baker completed two terms as President of the Pittsburgh East Rotary Club and served as Assistant District Governor for Rotary District 7300. He is also Past President of the National Speakers Association Pittsburgh (2013 NSA Member of the Year), Past President of the Coro Pittsburgh Alumni Council (2004 Emerging Leaders in Public Affairs Graduate), Past President of the Pittsburgh Urban Magnet Project Board, Vice Chair of the Pittsburgh Jobs Corps Center Community Relations Council, and Past Co-Chair of the United States Army Advisory Board. He has served on a number of non-profit boards including North Hills Community Outreach, Allegheny County Library Association, Visit Pittsburgh, Breathe Pennsylvania, Special Olympics of Pennsylvania, Pittsburgh Cares, LifeSpan, National Student Partnerships, and the Baierl Family YMCA. Councilman Baker was appointed by the Governor and confirmed by the PA Senate in 2012 to serve a term on the Professional Standards and Practices Commission. He was a two term Student Body President and President of Lambda Chi Alpha while earning his Bachelors degree in Elementary Education from Millersville University and served as President of the Associates for Student Development during completion of his graduate studies in Student Affairs in Higher Education at Indiana University of PA. Tom was awarded Outstanding Graduate Student of the Year for PA in 2005 by the Pennsylvania College Personnel Association. The Thomas Justin Baker Person of the Year Award was established in 2001 and is presented annually to a top leader on campus at Millersville. Baker also graduated from Leadership Pittsburgh's Leadership Development Initiative XV program in 2008, the FBI Citizens Academy in 2012, and the Center for Excellence in County Leadership through CCAP in 2014.
In 2009, Councilman Baker received the Distinguished Civic Leadership Award from Millersville University and in 2014 Councilman Baker was honored with the Young Alumni Achievement Award at the Millersville Honors and Awards Convocation. Junior Achievement of Western PA recognized Councilman Baker with the 2018 Mayor Richard S. Caliguiri Good Samaritan Award and the Pittsburgh North Regional Chamber of Commerce recognized him with the 2018 Young Professional of the Year Award. The Monroeville Area Chamber of Commerce selected him as the 2011 Young Business Leader of the Year, Pittsburgh Magazine named him a "40 Under 40" honoree in 2014 and a Three Rivers Champion winner in 2017, In Community Magazine selected Councilman Baker as the 2014 Volunteer of the Year for Ross Township, The Incline named him a Who's Next in Politics 2017 honoree, and he received the 2015 Indiana University of PA Young Alumni Achievement Award. In 2017, he received the Dick Spahr Compassion in Action Award from North Hills Community Outreach. Tom was a 2010 Jefferson Award for Public Service honoree by the Pittsburgh Post-Gazette, received the Public Sector Leader Award at the 2011 RISE Changemaker Awards, was one of the 2011 "Faces" of Gilda's Club, received the 2014 Distinguished Alumni Leadership Award from the Coro Center for Civic Leadership, and was recognized as a 2013 Fast Tracker honoree by the Pittsburgh Business Times. In 2016, he was a part of two successful fundraising drives as a Man & Woman of the Year honoree for the Leukemia & Lymphoma Society and through the Real Men Wear Pink campaign for the American Cancer Society. Councilman Baker and his wife, Erin, have been married since July 10, 2004 and live in Ross Township with their daughter, Lila June Baker, who was born on January 23, 2018. The Baker's attend Berkeley Hills Lutheran Church where Councilman Baker serves monthly as a Worship Assistant at services and as a Church Council member. The Baker's were honored as one of the "Couples for a Cure" in 2012 by the Cystic Fibrosis Foundation fund and present annual scholarships to students at Millersville University, Indiana University of PA, and North Hills High School.
District 1 Communities: