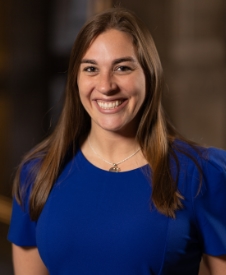 At Large Council Representative
Bethany Hallam
Phone: 412-350-6490
Standing Committees:
Chair: Government Reform
Member: Budget & Finance, Health & Human Services, Public Safety
Allegheny County Councilperson, At-Large, Bethany Hallam is a native Pittsburgher. She graduated from North Hills High School in 2008, and from Duquesne University in 2012 with a B.A. in Public Relations and Spanish.
She has been a vocal supporter of all varieties of criminal legal reform since long before she was elected to office. During her ten-year battle with Substance Use Disorder, she had multiple run-ins with law enforcement that resulted in dozens of summary and misdemeanor convictions. She has paid tens of thousands of dollars in fines and fees, spent time on probation and in the Allegheny County Jail, and had her driverís license suspended as a result of these convictions. Councilperson Hallam ran for office as one of the first people in the country to do so as a formerly incarcerated person in long-term recovery from Substance Use Disorder, garnering nationwide attention and bringing the conversation of criminal legal reform more into the mainstream. She is now the youngest person to have ever been elected county-wide in Allegheny County, representing over 1.2 million people in one of the largest legislative districts in the nation.
She ran on a platform of environmental justice, transit justice, housing justice, racial justice, and social justice, recognizing how the struggle for clean air and water is intertwined with the fight against racist displacement and gentrification, and how the fight to have housing recognized as a human right must include transit as a human right for it to be truly equitable and inclusive.
Councilperson Hallam uses her position as an elected official to speak all around Pennsylvania about the unjust treatment of those in our criminal legal system and, specifically people of color and lower-income populations. Serving on Allegheny Countyís Jail Oversight Board, she uses her lived experiences to advocate for better jail conditions. She also serves as the Chair of Allegheny County Councilís Appointment Review Committee, where she is working to ensure those appointed to the myriad boards, authorities, and commissions throughout the county are and remain committed to the vision of a more justice, equitable, and inclusive Allegheny County.